Hustle and Flow by Craig Brewer
"There are two types of people: those that talk the talk and those that walk the walk. People who walk the walk sometimes talk the talk but most times they don't talk at all, 'cause they walkin'. Now, people who talk the talk, when it comes time for them to walk the walk, you know what they do? They talk people like me into walkin' for them."
- Key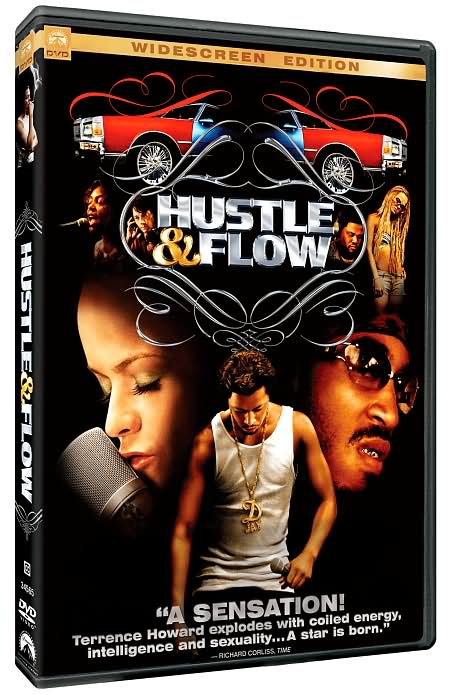 In
Hustle and Flow
, DJay, a down-on-his-luck pimp, has an epiphany one evening: he should have applied himself to the music business years ago, like his estranged schoolyard buddy who stuck with his dreams of stardom and made it big. Terrence Howard (whose long awaited breakthrough after 22 film roles came this year with
Crash
-
see our previous review
), plays DJay's earnest determination knowingly, sympathetically and without compromise - warts and all.
The film opens with our hero struggling in various attempts at hustling for cash. The problem is that DJay is trying to make the most of an endlessly losing situation. At the center of it all, of the three girls he pimps around, one is bored to tears, one is fiercely independent (despite having a baby to take care of), and the other is in the late days of pregnancy. As things go from bad to worse, DJay realizes something has to give and decides to throw himself headlong into telling his story through music. With an ensemble of supporting friends and hangers-on, the act that follows, not unlike that of Eminem's
8 Mile
, charts the challenges that a street rapper faces in his rise to stardom at any cost.
Excellent supporting roles are provided by Anthony Anderson (Key), Taraji P. Henson (Shug), and DJ Qualls (Shelby). Less convincing support is provided by Ludacris (a successful rapper himself, who plays the estranged buddy come superstar, who was also a co-star of
Crash
), who should be able to play a rapper in his sleep, but seems distant. Isaac Hayes is a welcome face as the club owner Arnel. But the lot of the film seems to play like rehash of so much we've seen before in the myriad storylines that play this trope year in year out. Thank goodness for Terrence Howard's stellar performance - which is seriously worth the effort in this otherwise tepid affair.
3 1/2 stars out of 5
The award season looks promising for this film.
Hustle and Flow
won the Audience Award at this year's Sundance Film Festival. Terrence Howard, in role of DJay, was just nominated for best actor at the upcoming Academy Awards, while the inescapeable central song of the film, "It's Hard out Here for a Pimp," was also nominated for an Oscar for best song.
[After a rather interesting performance of the song, featuring the story of
Hustle & Flow
told with expressive interpretive dance, it won its Oscar] -edited 03/07/06